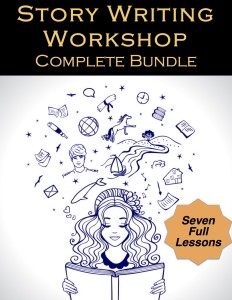 This past July, I ran a week long creative writing camp for middle and high school students. We had a ton of fun, and the students wrote some great stories! After the camp, I revised my materials and expanded on them for other teachers to use. They are now available on
Teachers Pay Teachers
.
GET THE ENTIRE BUNDLE
AND SAVE OVER 20%! Or check out individual lessons below. (Lesson one is free)
Lesson One: Introduction to Storytelling (Free download)
Lesson Two: Freewriting and Idea Generation
Lesson Three: Building Strong Characters
Lesson Four: Plot
Lesson Five: Setting and Description
Lesson Six: Revision
Lesson Seven: Book Cover Design
Hope you enjoyed this post! To get regular updates from this blog, use the subscription options on the sidebar.